BEACHES CURACAO , STRANDEN CURACAO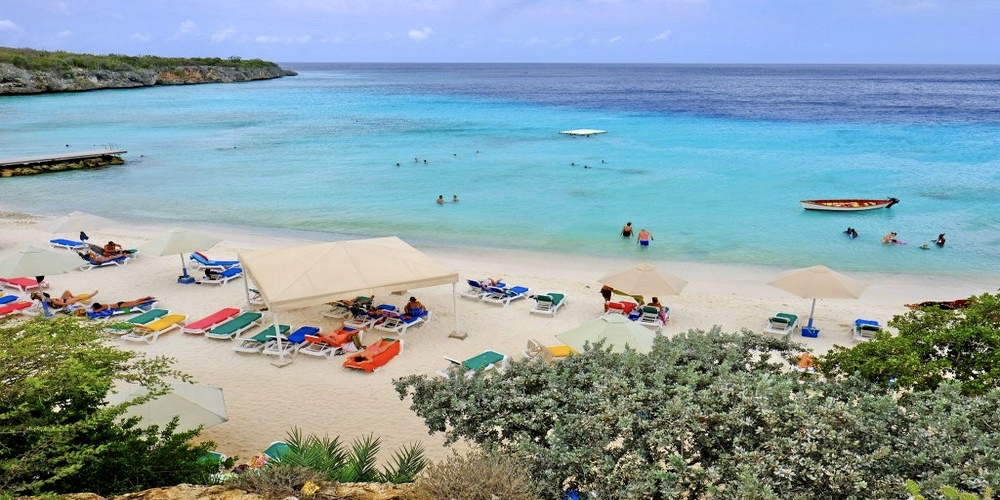 Porto Marie Beach Curacao
PortoMari is a beautiful sandy bay to be found on the private estate of Plantages "PortoMari" on the west coast. Its white coral sand beach, with clear and calm water, is a true paradise for water lovers, and the unique "double" reef is easily accessible from the shore providing a fascinating snorkel and dive site. There's a diveoperator at the beach. All activities at Playa PortoMari are managed in an environmentally responsible manner.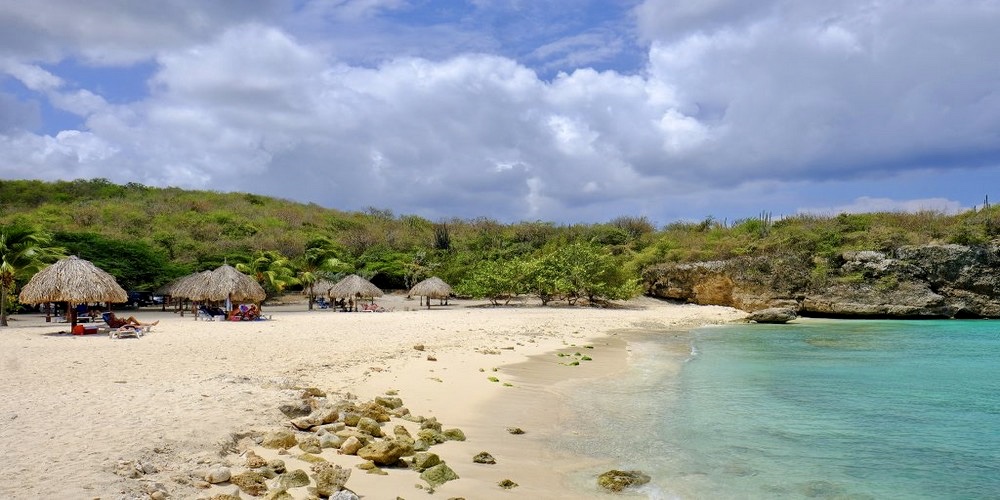 Daaibooi baai Curacao
A small bay close to town, this beach has good snorkeling along its rocky ledge and a small fishermen's cove. Pergolas provide adequate shade and there is also a snack bar that is open both during the week as on the weekend. To the west of the beach, a small trail leads into the countryside.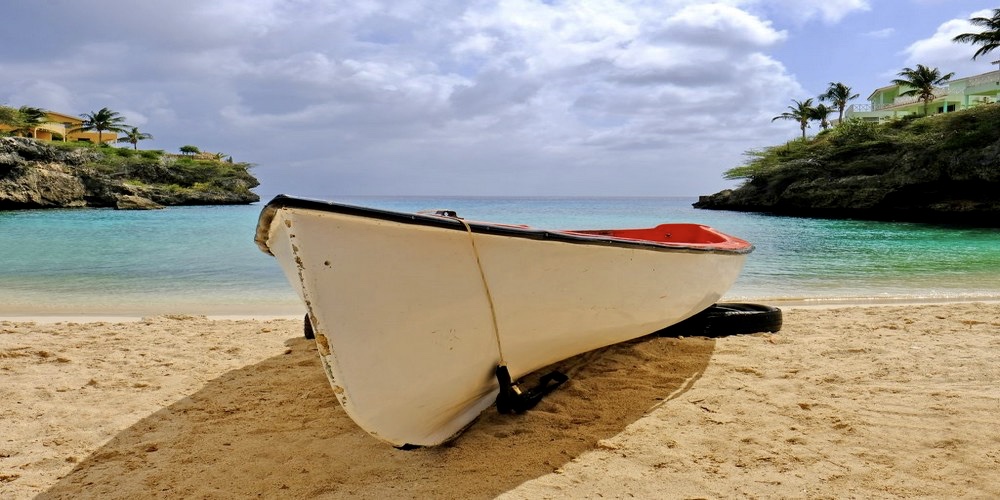 Playa Lagun Beach Curacao
A cluster of fishing boats gives this narrow cove a picturesque air. The water is very calm and shallow near shore, with excellent snorkeling. Children who can barely swim will be able to don a mask and see the fish without going in over their heads. Large shade structures and manchineel trees provide ample shade. A small snack bar is open on the weekend.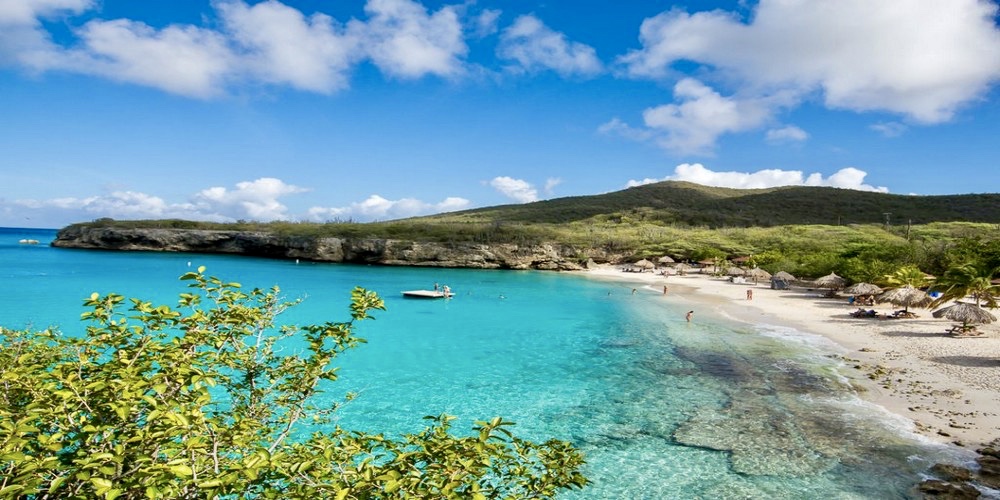 Grote Knip / Kleine Knip Beaches curacao
These two beatiful coves are among the island's most popular beaches. Intimate playa kenepa is partly shaded by manchineel trees. The snack bar (which has a tiny restroom) is open on weekends and often plays loud music. Locals like to camp here during school holidays. Larger Playa abou (Big Beach) has several shade pergolas set back from the water and a large snack bar.
Playa Kalki
This small cove is popular for snorkeling and diving, and has a roped of area with afloating platform. It is located down steep stone steps from the parking area.Halfway between the parking area and the beach is a shaded terrace with a snack bar and dive shop. From the beach another set of steps leads to the Kura Hulanda Lodge on the bluffs above, which has a restaurant. Entrance to the water is somewhat rocky.
Playa Forti
The view from above this beach is right out of a postcard, with the fishing boats and a panorama of the island's western tip. Here you'll find pleasantly different coarse brown sand and tiny smooth pebbles but almost no shade. There are several snack bars and a restaurant at the parking area above the beach, with a steep ramp and steps down to thewater.
Boca Santa Cruz
While the mangrove swamp surrounding this wide beach dotted with palm trees clouds the water, creating less than ideal conditions for snorkling, it does attract a lot of birds. Therefore there are excellent bird waching possibilities. A few shade structures are setback from the water and there's a small bar and restaurant (Captain Goodlife's Beach Hut) and restrooms.
Playa Jeremi
Visit this narrow, picturesque cove late in the day, perhaps lingering to watch the sun set, when you can fully apprecaite the exceptionally clear water without minding the lack of shade. Uneven steps cut into the rocks lead from the parking area to the beach. No amenities.
Vaersenbaai
Serious swimmer, snorkelers and divers will have no problem ignoring the scant sand, rocky enry and lack of shade at this picturesque cove just west of town. Small children will find entrance to the water difficult, but will enjoy the small play area, wading pool (wich is not filled), pier and, if they're good swimmers, the diving platform. Sometimes you can see bright blue and green parrot fish from the pier.
Boka St.Michiel
Small boats bob in the bay of this traditional fishing village just west of town. The dive club on the pier has public restrooms and a restaurant. The small beach, also known as Boka Sami, has no shade and little sand, but lovely water, a small fishing pier. There are two simple, good fish restaurants nearby. You can also explore the salt marsh or climb a trail that runs up the hill to the west of the beach.
Blue Bay
Blue Bay Beach is a large shady beach just northwest of Willemstad with lots of facilities. It's popular with local families and visitors because of the soft white sand. The sea floor slopes gently from the beach so children enjoy playing here. There are lounge chairs, palm trees, shade umbrellas, a nice bar and restaurant, a watersports center (diving and sea kajaking!) and a bikini shop.
Jan Thiel
Lounge on the cement quays beside the large open bay, which has excellent diving and snorkeling. The beach is located in a new upscale residential area east of town. There is some sand, but children enjoy the semi-enclosed wading area that resembles a swimming pool.
Cas Abou
This beach combines a natural country setting with all the conveniences of a fful service beach. The snorkeling and diving are great. It takes about ten minutes to reach the beach after the main turnoff, at the end of a winding dirt road that meanders through some beautiful countryside, with good bird watching late in the day. Shade is provided by some pergolas (these go quickly on weekends) and a few trees.
Caracasbaai
The beach is made of coarse sand and pebbles and is popular for snorkling and diving because its part of the underwaterpark. Also popular with the island residents. There are several small restaurants, there water is usually calm and the admission is free. The nearby Baya Beach Club is not free of charge.
Amerikaanse Maagdeneilanden, Anguilla, Antigua en Barbuda, Aruba, Bahama's, Barbados, Bermuda, Bonaire (Caribisch Nederland), Britse Maagdeneilanden, Cuba, Curaçao, Dominica, Dominicaanse Republiek, Grenada, Guadeloupe, Haïti, Jamaica, Kaaimaneilanden, Martinique, Montserrat, Navassa, Puerto Rico, Saba (Caribisch Nederland), Saint-Barthélemy, Saint Kitts en Nevis, Saint Lucia, Saint Vincent en de Grenadines, Sint Eustatius (Caribisch Nederland), Sint Maarten, Trinidad en Tobago, Turks- en Caicoseilanden, Frans-Guyana, Guyana, Suriname, Belize: de Caraïbische kust en eilanden, Colombia: de archipel San Andrés en Providencia en de Caraïbische kuststrook, Costa Rica: de Caraïbische kust en eilanden, Guatemala: de Caraïbische kust, Honduras: de Baai-eilanden en de Caraïbische kuststrook, Mexico: de staat Quintana Roo (met onder andere Cancun en het eiland Cozumel), Nicaragua: de Miskitokust (RAAN en RAAS), Panama: de Caraïbische kust en eilanden, Venezuela: de staat Nueva Esparta (met onder andere Isla Margarita)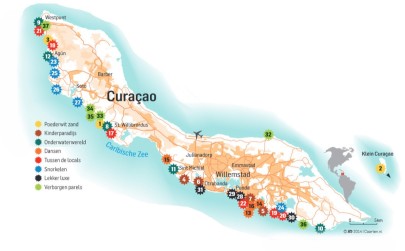 All about Curacao
With no hurricanes and considerable prosperity, Curacao stands out as one of the Caribbean's most desirable destinations. Take your pick of stories on how Curacao got its name. One story goes that the abundance of vitamin C-laden fruit kept some stranded European sailors alive and healthy - curacao supposedly being archaic Portuguese for cure. A more likely story goes that Spaniards called the island Curazon, for heart, and mapmakers changed the spelling to the Portuguese Curacao.
Sixteenth-century Spaniards found little gold and insufficient water to make staking a claim worthwhile. The Dutch West India Company subsequently laid claim in 1634. Then they established plantations and built fine homes called landhuisen. Some still exist today. The most Dutch of Curacao's architecture can be seen in the island's charming capital, Willemstad, administrative center for five of the six Netherlands Antilles jurisdictions. Built in the mid-1600s, Willemstad evokes the quaint architecture of Holland's chief city, Amsterdam. Fine examples of narrow gabled structures are replicas of those in Amsterdam, Holland. Wealthy Dutch merchants used to build narrow, multi-storey buildings as a tax benefit. At one time, Amsterdam real estate was taxed according to frontage. In any case, Willemstad's narrow buildings are even more charming than those in Holland. Why? It's because the Willemstad structures are painted in a wide range of pastel colours. Willemstad is so "Amsterdamish" that a swinging nightclub is named: Amsterdamned. But Amster-blessed is more like what has happened. As in Holland, you will find Curacao clean, neat, and possessed of an excellent infrastructure and a bustling economy that makes the island one of the Caribbean's wealthiest. Bridges named after Dutch royalty connect the two sections of the capital - Punda and Otrobanda.
It is ironic that the island failed to grow proper oranges, the Royal House of Orange being providers of a Head of State for the Netherlands Antilles. Curacao oranges proved to be so sour they ended up as the signature flavour in a liqueur called Curacao. Most people are more familiar with Curacao as the drink rather than one of the world's premier vacation resorts.
Curacao had an almost boring existence from its founding in 1634 until 1914, when oil was discovered 40 miles away in Venezuela. In 1915, Royal Dutch Shell Company began to build one of the world's largest oil refineries on the island. That brought Curacao a red-hot economy that continues its rapid expansion as you read. To seek full employment, the Dutch government launched a tourism programme in 1950. Since then, millions of visitors have fallen in love with Curacao and its wonderful beaches. The semi-arid climate makes the island a sun-worshipper's paradise. It rarely rains, but there is standing water in some saline ponds here and there. Most of the island's potable water comes from a huge desalinization plant on the south coast.
Some of the other unique things in Curacao are the local language, Papamiento (sometimes spelt Papiamentu), and the wind-shaped divi-divi trees. Papamiento is a curious mixture of several unrelated languages. People of the former Dutch colonial islands are brilliant linguists. Dutch speakers find it easy to switch over to English, since Dutch and English share Teutonic roots.
Curacao rocks into the wee hours at some 10 casinos, located mainly in the larger hotels. Unique to Curacao is tambu, an ancient African form of dance and music. There is also a musical form called zumbi, which refers to the walking dead known as zombies. Curacao, called Kursow by Papamiento speakers, has a strong tradition of African culture that blends well with that from the faraway land of windmills and dykes.