BED & BIKE CURACAO BED & BIKE CARIBBEAN
Bed & Bike Curacao was established in 2017 from an old, Parliament building. The husband and wife owners, along with their vibrant staff, are passionate about providing their visitors a neat, cozy and eclectic place to stay while discovering the beauty and charm of their island. Their goal is for guests to leave loving Dushi Korsow just as much as they do.
This is the first and only Bed & Bike hotel in Curaçao! Located in the increasingly popular Pietermaai district, the combination between its historical buildings, contemporary restaurants and nightlife make this one of Curaçao's most trendy and attractive neighborhoods.
Just a 10-minute walk into Willemstad, Curaçao's colorful capital is often referred to as "Amsterdam in the tropics." Hop on your bike and hit the strip of revamped beaches and boulevards that offer more shopping, dining and entertainment.
The hotel is geared toward the modern budget traveler looking to experience the unique beauty and charm of Curaçao.
​Whether you prefer a private or shared room, Bed & Bike Curaçao offers a clean, comfortable space, a colorful and island-friendly environment and an at-home experience.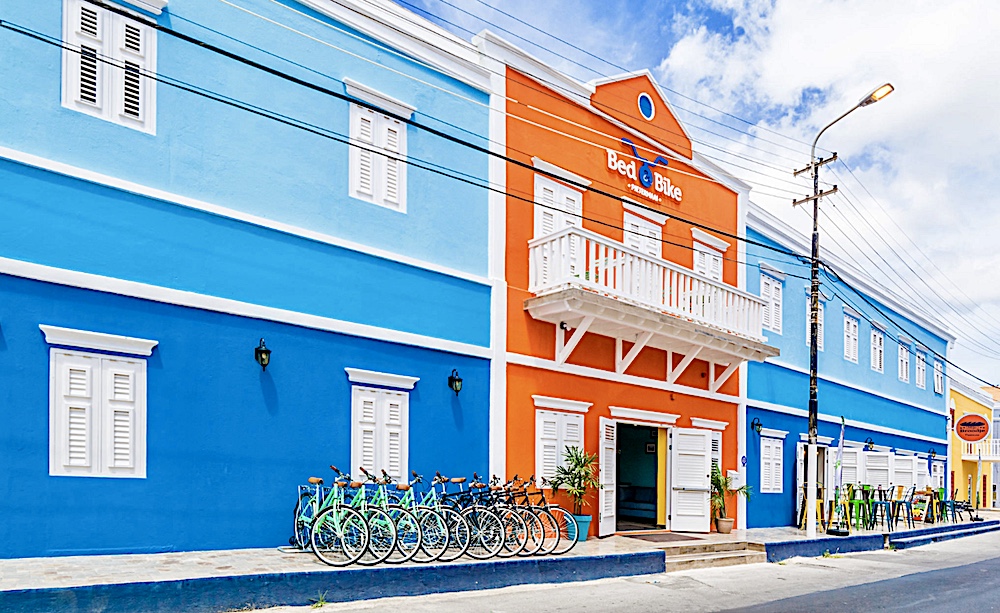 Bed & Bike Curaçao offers both private rooms and shared hostel rooms. All accommodations have air conditioning, free WiFi, and access to the guest kitchens & other communal areas. Here visitors have an opportunity to develop relationships with other guests, share their Curaçao experiences and recount their daily adventures with each other. All guests are invited to use one of our city bikes to further explore the island. Conveniently located, there is a restaurant/lounge on the ground floor serving food and drinks all day long.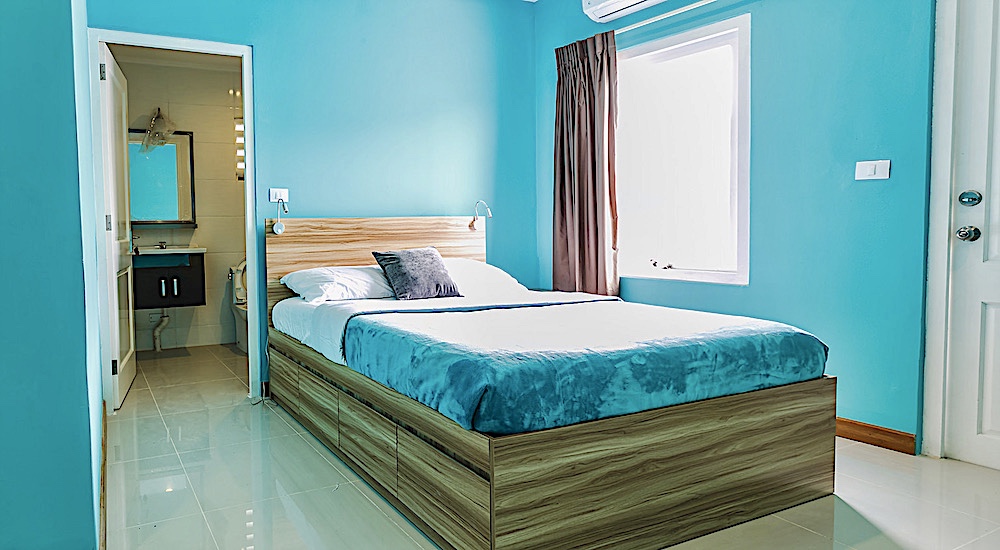 Bed & Bike Curaçao is located immediately outside historic Willemstad, Curaçao's capital which is split into two sister cities of Punda and Otrobanda. Connected by the famous "Swinging Old Lady Bridge," the city offers a variety of shopping that ranges from local items sold on the street to brand named stores.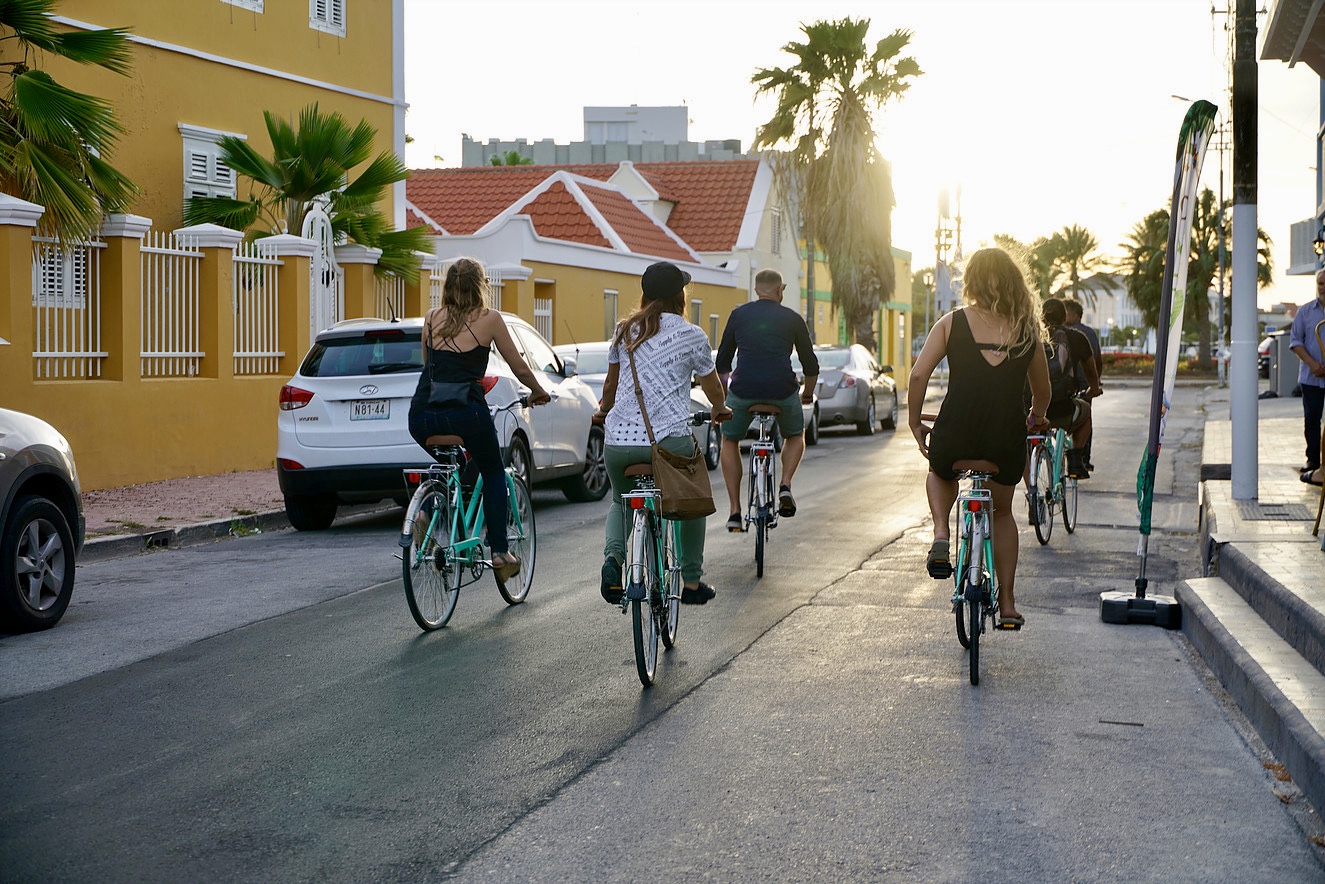 There is a dining area located on each floor as well as an outdoor terrace on the 2nd floor.
After preparing your snack or meal in the kitchen or pouring a refreshing beverage, head over to one of the dining rooms or terrace. On the terrace, you can feel the breeze of the trade winds while being shaded from Curaçao's intense sun. Here guests can meet the other visitors and share their experiences.
We have a conveniently located street-level restaurant/bar, called Mijn Broodje Pietermaai, that is open all day.
For the tech-oriented visitors, hook up to either of our 3 TVs with your headphones, or charge up your phones, tablets or laptops at the charging stations.Or simply lounge on the couch and enjoy a refreshing beverage and tasty snack!!
Take a bike on the wild side - perfect way to get around Pietermaai, Punda, Otrobanda or take a longer trip to a day at the beach. Service included for guests. Not a guest? Bicycle rent per day only $10,-.
Bed & Bike Curacao offers private rooms as well as shared hostel rooms.
All rooms have air conditioning and free WiFi.
A city bicycle is included for each guest.
Private rooms have a queen bed, modern bathroom and a smart TV with Roku.
Shared bathrooms are furnished with modern fixtures, showers and have a private changing area.
Strict no smoking policy in all rooms
Your comfort is one of our main priorities so beds are equipped with an excellent quality mattress, high thread count bed sheets and a downy pillow.
CONTACT US
Ansinghstraat #1
Willemstad, Curaçao
Tel: (5999) 843-7373
info@bedandbikecuracao.com

​